3 x McAfee AntiVirus Total Protection 2020 for 2 Years & 3 x PDF Pro Editor/Creator Lifetime License Keys for Windows
€23,95

€23,95

Save

€676,04
Tax included.
---
---
Beyond just antivirus:

McAfee Total Protection

 


2 Years / 3 PC License Keys


+


Beyond just antivirus:

PDF Pro Editor/Creator 


3 PC Lifetime License Keys





for just 23.95 EUR



THE ALL-IN-ONE PDF CREATOR TOOLKIT!

▼ See F.A.Q. and Terms for more info ▼

Boost your productivity with Lifetime License of the Professional PDF Editor/Creator Software! An all-in-one PDF creator that lets you assemble, edit and create PDFs. Open more than 100 different file types just by dragging and dropping them onto the Welcome Screen. Take pages from multiple files, including documents, spreadsheets and presentations, and combine them into a single PDF to share with anyone. Add new text, bookmarks and comments. Plus, convert files to PDF, PDF/A, XPS and DOC formats with just a click.

• Save money by viewing over 100 file types without purchasing additional software
• Easily create and edit PDFs
• Drag and drop to combine multiple file types in one PDF document
• Save time by easily re-purposing content, instead of retyping, and cutting and pasting
• Share files with anyone by converting to PDF, PDF/A, XPS or Microsoft Word formats

Assemble new documents with ease

• Drag and drop to easily add content from multiple sources and file types—including documents, spreadsheets, presentations and images—into a single PDF document to share with anyone
• Quickly assemble new documents using pages from existing material
• Export and email PDF documents
• Convert to PDF or XPS

Open over 100 file types

• Open over 100 file types—even if you don't have the software used to create the file!
• Open Microsoft Word, Microsoft Excel, Microsoft PowerPoint, Adobe Photoshop, Microsoft Visio and other popular file types
• Choose from Page, Assembly or Flick views to work with your document

Edit and rearrange content

• Just select a line of text and start typing to make changes
• Edit or add text anywhere in a document
• Easily add bookmarks and comments
• Mark up documents using highlighting and sticky notes
• Redact sensitive information and save securely
• Add watermarks
• Insert hyperlinks to other pages in your document, other files or websites
• Rearrange, rotate or crop pages

Create files in PDF, DOC and XPS formats

• Create new PDF documents from within any application that can print
• Organize and send related files in a single PDF document
• Convert multiple files at once with the PDF Batch Converter


+ 3x 
Among our McAfee security solutions, McAfee Total Protection stands tall with its combination of antivirus, privacy and identity tools and features. Defend yourself against the latest virus, malware, ransomware and spyware attacks, while keeping your identity and privacy close and personal.


Please note that You are buying a product key which we will email to you.
McAfee Internet Security does NOT come on CD. 


2 Years protection for your PC on an affordable price with the most trusted Antivirus software around
With all the features, protect your Windows PCs day-to-day, With McAfee Total Protection subscription, you can protect your device without skipping a beat and most importantly, without slowing the device down ever again. 
2 Years for 3 PC Devices.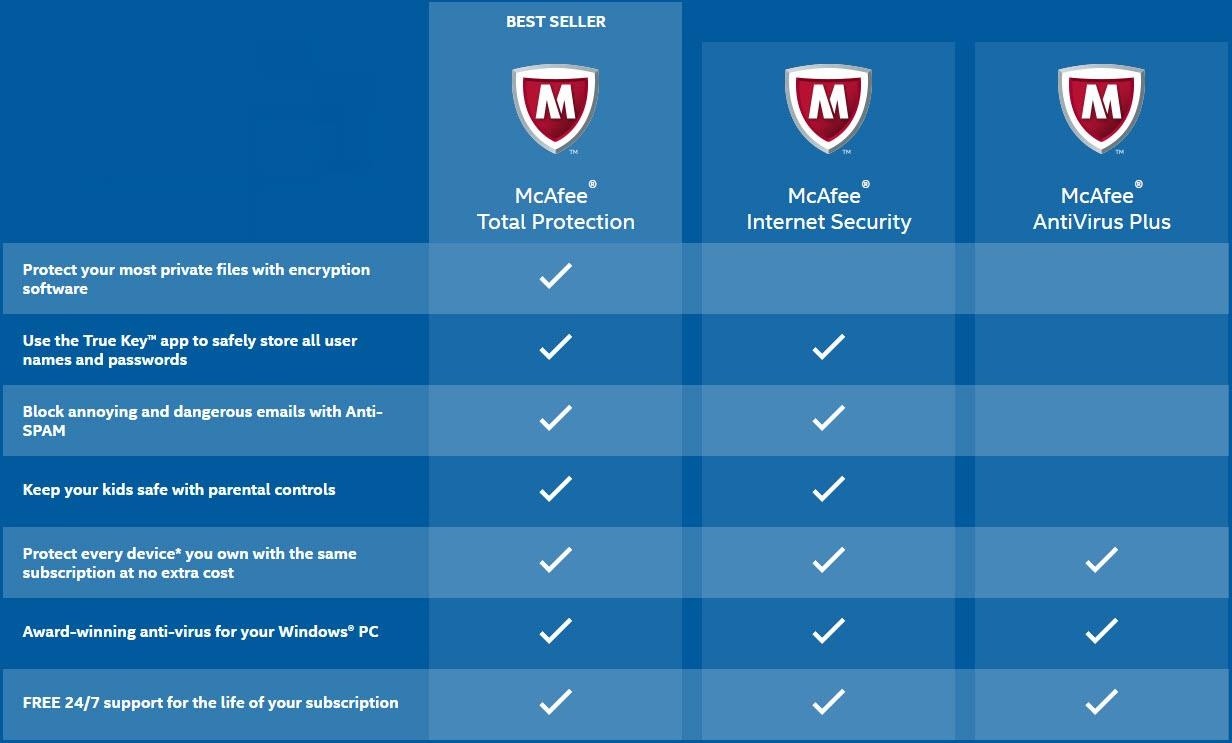 Antivirus for a PC
We recommend using a comprehensive antivirus solution to protect your Windows PCs. Although Windows Defender is built into Windows 10, its anti-malware capabilities may not be sufficient to combat ever-evolving threats. McAfee Total Protection goes beyond antivirus with tools to protect against threats like malicious web pages, phishing and much more.


Key Features

Award-Winning Security: Defend against viruses, ransomware and other online threats
Safe Web Browsing: Get warned about risky websites and prevent dangerous downloads 
Firewall Security:

 

Keep hackers & malware from attacking your PC by blocking access
Free Customer Support:

 

Contact us by phone, chat or online for the life of your subscription
Virus Protection Pledge:

 

Providing you with the confidence that if your PC gets a virus a McAfee expert will remove it, or your money back! * 





 

 

Award-Winning Antivirus
Easy to use security from a name you trust



Block viruses, malware, ransomware, spyware, unwanted programs and more on your PC
Safe web-browsing: Avoid risky websites and prevent dangerous downloads




Virus Protection Pledge
100% Guarantee


McAfee® AntiVirus  is backed by our 100% Guarantee providing you with the confidence that if your PC gets a virus a McAfee expert will remove it, or give you your money back!


          

Beyond Antivirus
Go beyond Antivirus with rich features



Protect your Identity & Privacy: Permanently delete files from your PC. Ideal for tax or financial information, and personal files
Keep your PC running smoothly:

 

McAfee® QuickClean™ Tool removes cookies and temp files that track you online
Always Up to Date: Our software is automatically updated, to ensure you have the latest protection
To install the product you need to download it from their website (we will provide instructions) and then use the Product Key which we will email to you.
This will give you McAfee Total Protection 2020 - 6 Years / 1 PC.
Condition: BRAND NEW.


Our Virus Protection Pledge to you:
By using McAfee, will be removed any viruses on your devices or give you your money back, 100% guaranteed.
30-day Money Back Guarantee:
If you're not completely satisfied, we'll be more than happy to give you a prompt and courteous refund.


24/7 Online Support:
We are available for any support needed 24/7 by email or live chat.


Software Features
Award winning virus protection software
Keep your device protected
Includes: Antivirus, identity and privacy protection, password management, spam filter, encryption, and more.

Trusted antivirus and identity protection for your device so you can browse, bank and shop safely online.




With McAfee Internet Security, count on a name you can trust to get the antivirus and identity protection you need for your PCs, Macs, smartphones, and tablets with all of the essentials like safe web browsing, firewall security, the True Key app, the Virus Protection Pledge*, and more.


McAfee Total Protection 2020 - 6 Years / 1 PC is a complex solution meant to protect your computer from viruses, malware, and other malicious software you may encounter during browsing the web, visiting unknown websites, running potentially unsafe applications, and opening suspicious email attachments. It combines different McAfee tools and puts them into one convenient package.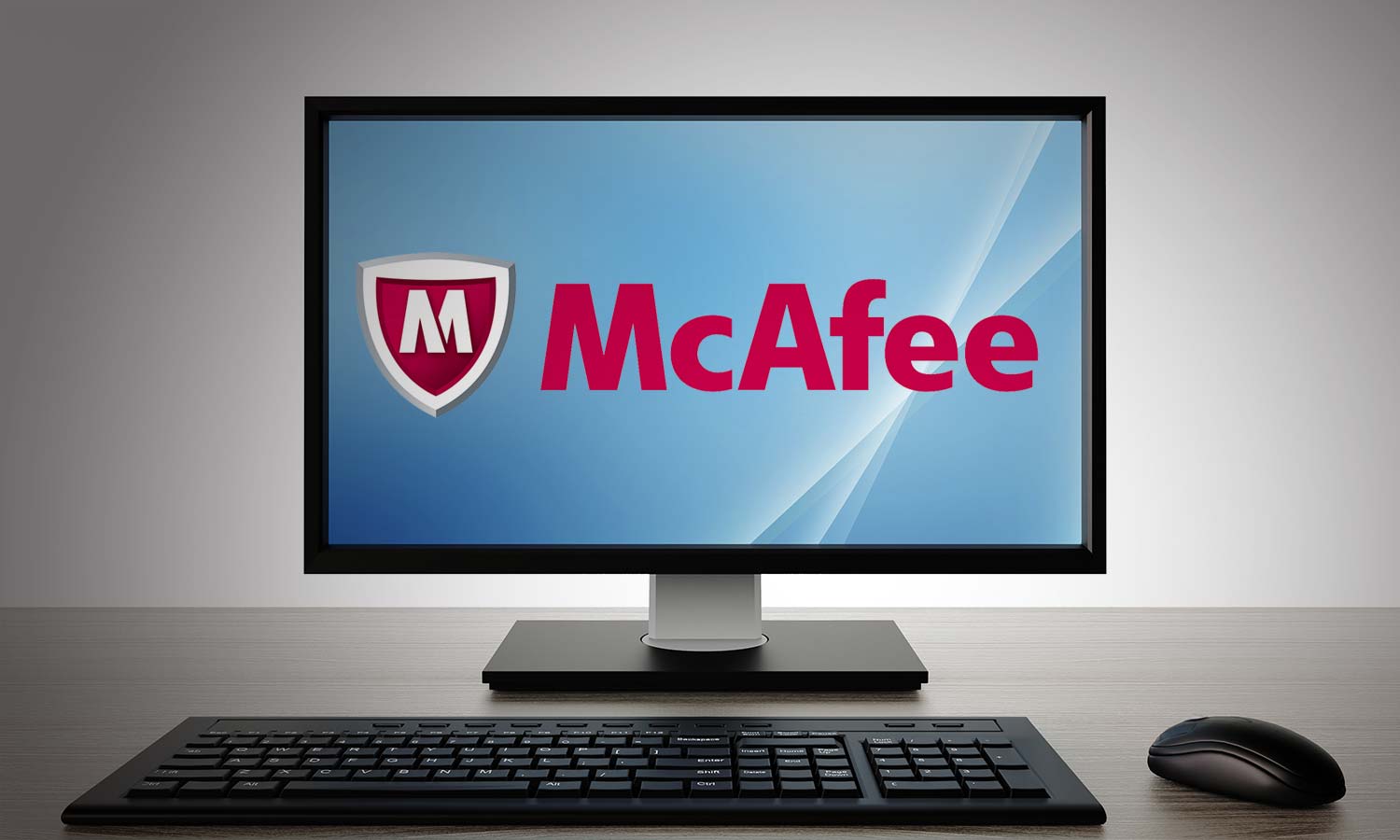 These include SiteAdvisor, Safe Family, True Key password manager, Wi-Fi protection, and safe file storage. 

Protect all types of devices with McAfee Total Protection cloud-based defense – from personal computers to tablets and smartphones.


 System requirements 
• Microsoft Windows 10, Microsoft Windows 8 / 8.1, Windows 7, Windows Vista or Windows XP with latest service packs installed (32-bit and 64-bit editions)
• 512 MB of RAM (1 GB recommended)
• 250 MB of available hard disk space
• 1.3 GHz or faster processor
• 1024 x 768 screen resolution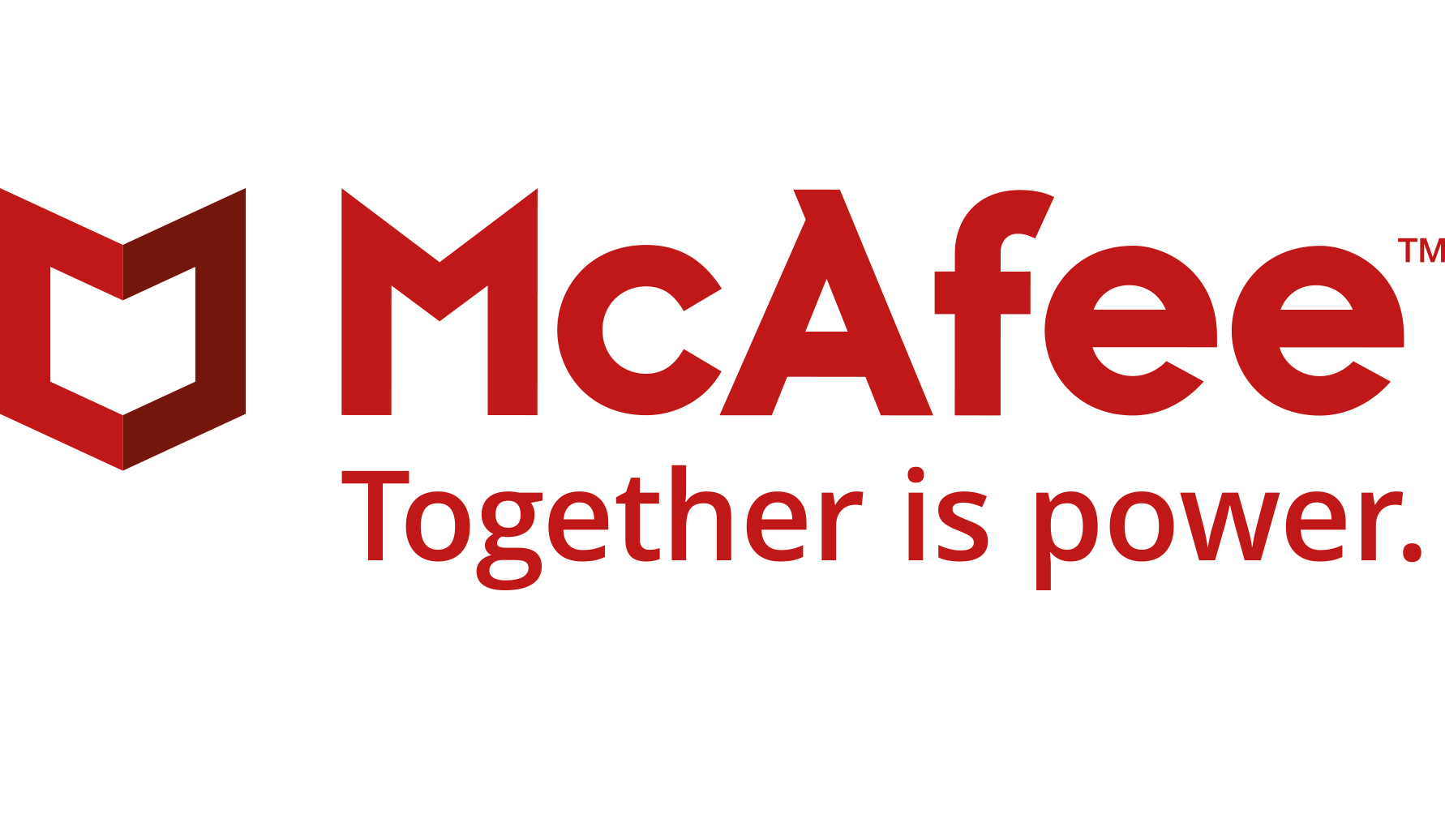 No invoice can be obtained
Asking more than 5 emails but they can never send me an invoice.
Bad service.
---
We Also Recommend